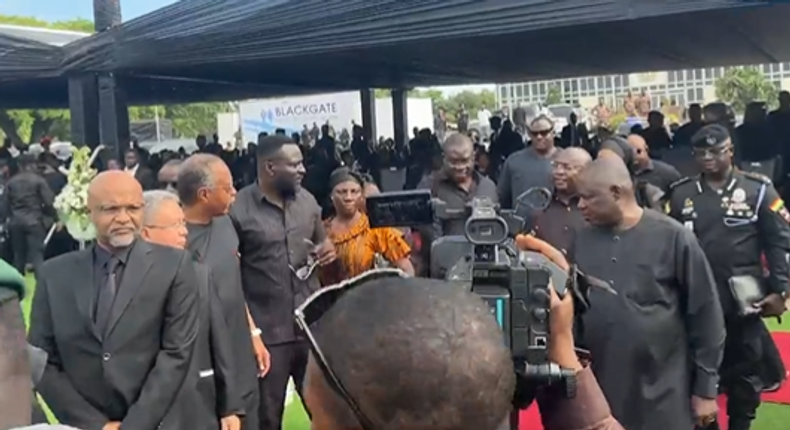 Former President John Dramani Mahama and Vice-President Dr. Mahamudu Bawumia have met publicly for the first time since it recently became clear, that the two are facing off in the 2024 presidential election.
The two political leaders were both in the company of their spouses when they met at the final funeral ceremony of the Former First Lady Theresa Kufuor on Thursday, November 16.
Mahama and Bawumia shook hands and talked for just a few seconds and then passed by each other, while the latter and the former's spouse hugged, a video shared on X by Citi FM show
They were at the state house to pay their last respect to the Former First Lady who passed away on October 1 at the age of 87.
The demeanours of Mahama, who is the opposition National Democratic Congress's presidential candidate and Bawumia, that of the governing New Patriotic Party, speak volumes about how fierce the election would be.
Well, maybe they were in a mournful mood and exchanging too many pleasantries at the funeral of the former First Lady might have sent a wrong signal to the public, hence they decided to keep their interactions short and serious.
Normally, although they are each other's critics when they mount their respective political platforms, they show affection and exchange good pleasantries when they meet in person.
While it is Bawumia's first time attempting to become the substantive president, Mahama is seeking a comeback following his loss to President Akufo-Addo in 2016.